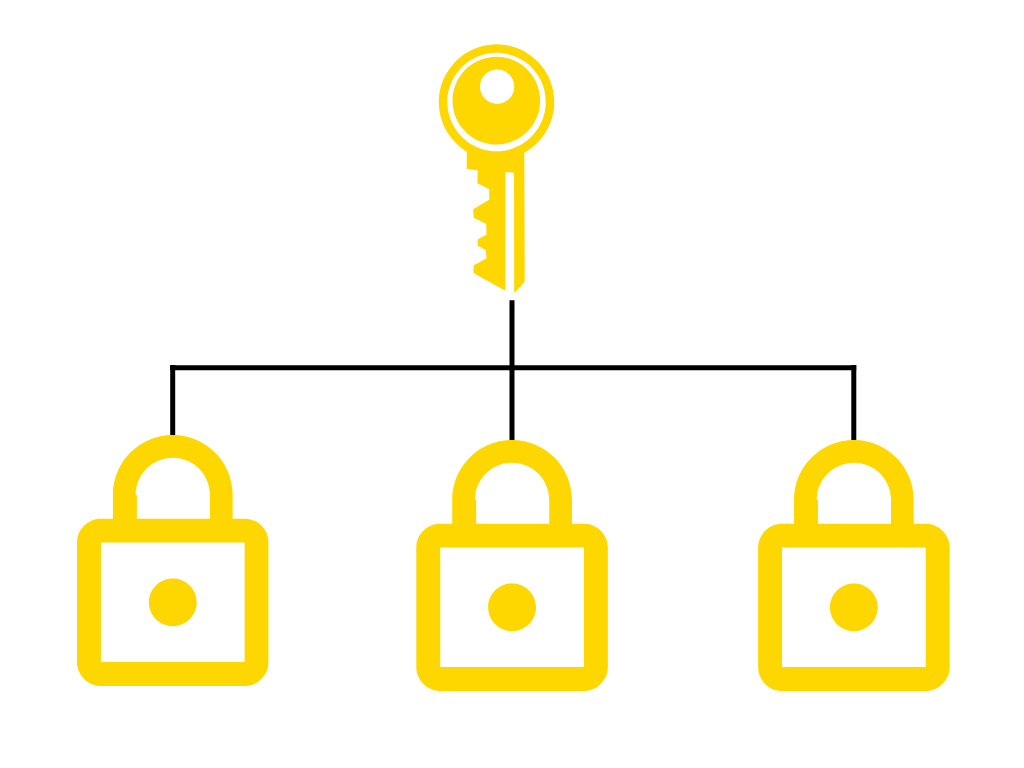 Keyed-Different vs Keyed-Alike Locks
Let's get the simplest one out of the way. Probably the most common type of lock, keyed-different locks have keys that open only one specific lock and nothing else. This is what comes to mind for most people when locks are discussed.
Keyed-alike locks, on the other hand, are a system of locks that operate using the same key. Simply put, one key fits all locks that are in the keyed-alike suite.
Advantages of Keyed-Alike Locks
There are numerous advantages to having a system of keyed-alike locks in your home. The most obvious one being convenience. When you can open multiple locks with the same key, you won't have to carry sets of keys around with you. It also saves you money as you would only need to buy or cut one key even if you have a lot of locks installed. Finally, related to the previous one is that if you lose or break your keys, you will need to get only one replacement key; however if you have your key stolen or illegally duplicated then you will need to replace all the locks in the suite which clearly would be a disadvantage.
Despite these advantages, some are concerned that keying alike your locks and doors may reduce the security of your homes. However, this is simply not true. The technology used for locks used in this system are no different from regular locks. They're just set so that the same key could work on more than one of them. Keying alike your locks does not make it easier for people with malicious intent to pick open your doors.
What Type of Locks Can Be Keyed-Alike?
The following types of locks can be keyed-alike:
Euro Cylinder locks;

Oval Cylinder locks;

Rim Cylinder locks;

Mortice locks;

Sash locks;

Padlocks⁠—yes, even padlocks can get keyed alike.
However, if you plan on getting the locks in your house keyed alike, you have to make sure that they all come from the same manufacturer. A Yale key won't fit into an APECS product, for example, so if your locks are different, then they will have to be changed so that you can use the same key for all of them. Also, although Mortice deadlocks and Sashlocks can be keyed alike they cannot be matched with Cylinder locks or padlocks.
Should I Get My Locks Keyed Alike?
If you wish to get the aforementioned benefits of getting your locks keyed alike, by all means, consider it. But it's especially important to consider this option when you find yourself in the following situations:
You just moved into a new house.
When moving into a new house, it's generally considered good practice to change all the locks around the property. This ensures that owners or tenants who previously lived there do not have access even if they had the old keys. At this point, you might as well opt to change to keyed-alike locks.
You have lost your keys.
A good locksmith will always recommend having your house locks changed if you ever lose or misplace your key(s). This is to protect against someone malicious who has stolen your keys or has found them by chance. In this case, you may want to go for keyed-alike locks.
You want to upgrade your existing locks.
Much like the previous ones, upgrading your existing locks is a good time to decide to go with a keyed-alike system. You can upgrade multiple locks to British Standard high security locks and choose to have them all keyed alike.
How Can I Key Alike My Locks?
If you're looking for a local locksmith, we've got you covered. We offer a no obligations no fee quotation service where we will discuss your options and give you a quotation based on various options.